Looking for things to do in Seattle? There are so many Free indoor and outdoor attractions in Seattle, you may be surprised how much you can do. Whether you want to go play at the beach, stroll museums, watch a live band, sit by a waterfall, walk through a botanical garden, or climb on a giant troll, we have listed the best spots.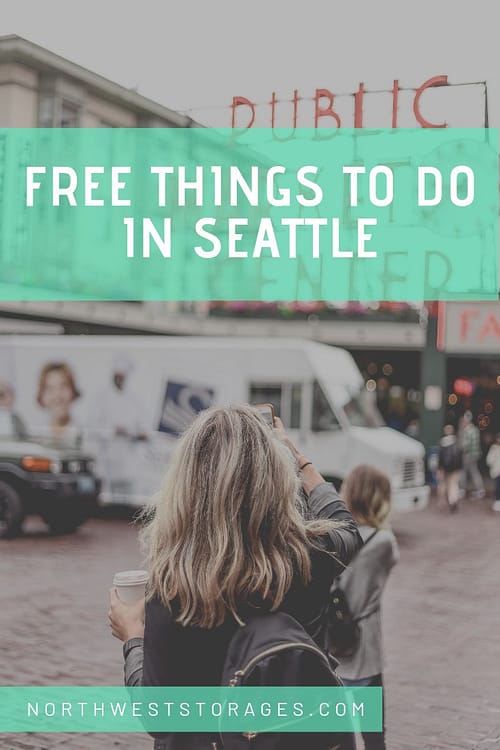 If you plan ahead, you can hit festivals and block parties around town as well during the summer months, but there is usually indoor entertainment at the Seattle Science Center if you get there on the right day. Be sure to check for any major events before heading downtown, so you can miss the traffic and just have a good time!
Seattle's downtown landscape is so diverse, you can walk through a market of thousands of people or take a leisurely stroll on the beach with only a few people around in the same stretch. If you know where to go, then you will never run out of things to do in Seattle. It's entirely possible to spend weeks roaming around the town, parks, and museums without having to pay for admission or attractions.
This is our list of top spots for Free things to do in Seattle:
Seattle Downtown Waterfront
https://www.visitseattle.org/neighborhoods/waterfront/
Taking a stroll on the downtown waterfront and exploring the historic shops can be a fun adventure! Ye Ol' Curiosity Shop is worth a visit, as they have been open since 1899 and offer oddities you won't find anywhere else. Downtown is also the perfect spot for photographic opportunities with the ferry boats approaching in the bay as the 175 ft Seattle Great Wheel spins overhead.
Pike Place Market
Overlooking the Elliot Bay waterfront in Seattle is Pike Place Market, over 10 million tourists flock to the farmers market every year. Going strong since 1907, you will find a large variety of unique vendors and local merchants on several levels. Sometimes going through the market can feel like a multi-story maze, with new things to see and explore.
Seattle Center
http://www.seattlecenter.com/events/
The Seattle Center was built with the Space Needle for the 1962 Worlds Fair and is currently used as a central hub for arts, education, entertainment, and tourism. Sitting on 74 acres in the heart of Seattle, it has stages for regular community entertainment as well as fairs and music festivals throughout the year. You can catch a Free performance, or public fair if you stop by on the right day. There is also a Children's Museum in the Center that is worth mentioning since they do offer donation-only admission in the evenings.  Check out their events calendar for more information.
Olympic Sculpture Park
http://www.seattleartmuseum.org/visit/olympic-sculpture-park
Created by the Seattle Art Museum, the Olympic Sculpture Park sits on 9 acres downtown Seattle. Stroll through the park for free, enjoying the large green space and even sit on the beach. Permanent and rotating sculptures are installed and maintained by the museum, so there are occasionally new sights to see.
Waterfall Garden Park
https://www.pioneersquare.org/experiences/waterfall-garden-park
One of the most expensive parks ever built in the United States sits in a small pocket in Pioneer Square, downtown Seattle. The 60 X 80 Ft private park boasts a 22ft man-made waterfall which pumps 5,000 gallons of water per minute. The park is locked in the evenings, so check the website for current daily visiting times.
Frye Art Museum
Operating since 1952, Frye Art Museum was Seattle's first Free art museum. Located in the First Hill neighborhood, they offer talks and tours, classes, and even musical performances. Displaying Charles and Emma Frye's original art collection as well as local and rotating artists, they are a prominent part of the history and culture of Seattle.
Washington Park Arboretum
https://botanicgardens.uw.edu/washington-park-arboretum/
Encompassing the entire length of Arboretum park, The University of Washington and Seattle Parks and Recreation worked together to make this free attraction a reality. Enjoy the Japenese Gardens, a wide variety of unique plants, and wetlands, on a total of 230 acres on the shores of Lake Washington. If you enjoy nature, you can get lost to your heart's desire in here.
Center on Contemporary Art
Displaying art by both contemporary and emerging artists, the Center on Contemporary Art has moved its exhibits around Seattle since the 1980's. It has featured over 3,000 artists in hundreds of exhibitions and continues to thrive downtown. Check out their website to see their current offerings.
Discovery Park
https://www.seattle.gov/parks/find/parks/discovery-park
Considered one of the best places to view natural wildlife in Seattle is the 534-acre Discovery park. This beach park features beautiful views of the Puget sound and is home to California Sea Lions and Harbor Seals. It's also known for 270 different species of birds. Enjoy the trails, spot some wildlife, walk the shores or build a sandcastle.
Fremont Troll
https://fremont.com/explore/sights/troll/
Birthed from four local artists, the most historically beloved sculpture in Seattle sits under the George Washington Memorial Bridge. Children and adults alike enjoy climbing on the 18 ft high sculpture, which firmly grips a VW Bug he seems to have snatched from the bridge above.
Ballard Locks
http://www.myballard.com/ballard-locks-seattle/
Attracting more than 1 million tourists a year, the Ballard Locks features more boat traffic than any other lock in the U.S. The fish ladder offers a special viewing area, where visitors can watch the Pacific Salmon swim upstream usually in the summer months when they spawn. A Free bonus is the Carl S. English Jr. Botanical Gardens located at the Locks, open daily.
Seattle Chinese Garden
http://seattlechinesegarden.org/
Featuring sweeping views of downtown Seattle, the Bay, and the Cascade Mountains, this 4.6-acre garden couldn't have acquired a more beautiful spot. Currently in the process of building one of the largest Chinese gardens not located in China, they have near completed the entire space, featuring traditional Chinese buildings built by artisans. The space is open to the public and absolutely breathtaking. You will not want to miss this!
Looking for self-storage in the Seattle area? Find storage near you with our storage finder!